Bilalah nak boleh berjalan agaknya yer Z?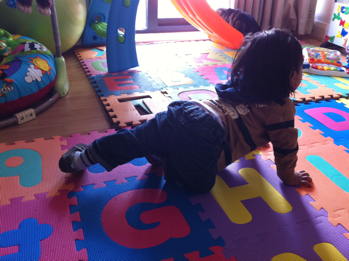 Di pagi hari kejadian
Weekend haritu kasut Z hilang sebelah. Sedar bila dh sampai rumah dah.. Mama dengan penuh semangat, sanggup turun balik untuk carik kasut yg hilang tu. harap2 nya jatuh dekat tesco bawah jer la sbb itu persinggahan terakhir kami. So, merayau2 lah mama serata tesco, x jumpa jugak.. Hmm, maybe jatuh kat kedai lidl masa mama beli buah2 kot.. So, mama pun cross the road ke kedai tersebut, x de jugak. Kedai daging kot, alang2 dah dekat, mama ke kedai daging pulak.. X de jugak.. Takkan lah mama nk ke henry street and all those shops pulak, kompem2 lah x jumpa.. So, mama pun berpatah balik jer lah dgn penuh kehampaan..
some of his old shoes.
So now, nak kena carik kasut baru lagi lah.. Kasut yg ada cuma size 5 which is quite big. Sekarang ni dah makin sukar utk cari kasut untuk Z. He is wearing size 4.5 or 5. Masalahnya ialah
kakinya kembang
most of those shoes are for walkers. He on the otherhand masih lagi memerlukan kasut for crawling or creeping. Yang tapak lembut2 kenyal tu.. Kadang2 mama beli jugak yg tapak keras tu. Pakai time keluar jer pun, bukannya Z nk berjalan or merayap kesana sini..
Latest 2 shoes for crawling (yg kelabu tu dh tinggal sejarah)
masa physio last week, paula suggest suruh Z pakai kasut all the time.. Dia kata kasut boleh membantu with balancing dan juga membantu tapak kakinya berpijak rata. So from now on, dlm rumah pun dh kena pakai kasut. Sebabtulah kena carik new shoes lagik..  Sekarang banyak design for summer. Comel2 jer, but sgain, tapaknya keras2 belaka..
Maybe kena beli yg the same design dgn yg hilang tu jer la kot sbb dah x de design lain lg dah pun..

Err.. X de lah sampai 50 kasutnya.. -.-