Sabtu mama berjaya bangun pukul 4 pagi!! (err..agak2 nanti sahur pukul 3 boleh bangun tak?) semunya gara2 NEXT sale la.. Tu pun sebab dah janji dengan aunty cikyat, kalau tak, mesti lambat gak heheh..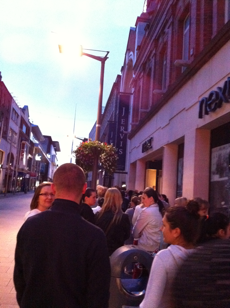 Anyway kami sampai around 4.45 (NEXT Children), and shop open at 5. Kira ngam2 jer la.. Keadaan mcm biasa lah, kucar kacir, but because we are amongst the 1st batch, banyak ler sikit choices :).

We finished around 7.30 (que nk bayar punyalah panjang..) and continue to another NEXT shop for adult n home.

Hasilnya for Z...




Hmm..mostly for next season and also for next year! But mama perasan baju2 yg beli last sale pun ada yg x pakai lagi.. Sigh.. Pembaziran lah.. Especially baju2 for summer.. Tahun ni summer pun x macam summer. Asik hujan memanjang.. Sayang tengok baju2 yang belum dipakai tu. Kalau pakai pun 2-3 kali jer.. I think i should open preloved shop la jugak.. Tgk ler camner..

Anyway, Mama cuma beli sepasang suit and few trousers jer for myself. Seluar keje banyak dah ketat huhuhu.. Untuk papa pulak, sepasang je la ek.. Kita kena dahulukan anak.. ^,^