Trip ke Malaysia lepas agak pendek sebenarnya.. Jadual sangat pack plus Z having anxiety.. So agak kucar kacir 'holiday' kami. But nevertheless, its still worth it :)

Monday 4th june - bertolak dari rumah around 3.30pm. Papa bekerja hingga pagi isnin, sbb tu ambik tiket malam. Flights were ok, Z meragam when we were in the airports (dublin, heathrow, klia), but alhamdulillah bila flights dh bergerak he was calmed down. Nasib baik jugak we got extra seat for him. MAS inflight service mmg terbaik :D.

Tuesday 5th June - sampai klia around 5.30pm and flight to Alor Star pukul 7.50pm. Sampai rumah Kedah pukul 10mlm dah. First night, Z tido pukul 2.30am -.-'




Wednesday 060612 - 3rd Anniversary mama&papa dan juga makteh&pakteh (we had double wedding, remember ;)). So kebetulan semua ada di rumah, kami pun pergilah celebrate di Menara Alor Star.

Z n Damea di atas Menara Alor Setar

Z kalau naik kereta ok lah mood dia.. Asik2 sebut 'aaarrr'. Mama reckon 'car' la kot.. Sbb dia dok sebut tu jer bila naik keta or nampak kereta hehe. Disebabkan kereta boleh menenangkan dia, maka tetiap hari kami pun keluar lah..

Friday 8th June - atuk kedah buat kenduri kesyukuran. Actually mak ngah yg buat, utk kak pipah yg dapat masuk matriks canglun lepas spm haritu. Alang2 mama pun top up skit utk doa selamat kita juga..



Antara lauk kenduri

Ptg Jumaat tu iftikhar n family datang. Iftikhar ni jiran Z masa kat NICU dulu. Mama mmg rapat dgn aunty aumi yg juga merupakan jiran katil mama masa kat nursing room. Jadi seronok sgt dpt bertemu kembali. Iftikhar dh pandai berjalan tatih2. Friendly pulak tu.. Z mcm biasa la, melalak ler bila ramai2 org gitu heheh..

Saturday 9th June - bertolak ke JB. Flight dr kedah tgh hari, then subang, then JB. Sampai rumah nenek Johor dh pukul 9 lebih jugak..

Dekat johor pun samalah jugak.. Meragam jer.. But at least kat johor x ramai org. So Z ok jer lah main2 kat luar, as long as tak de org kacau dia.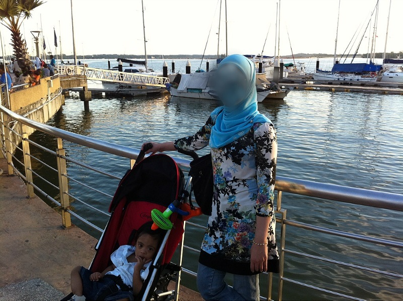 @Danga Bay

Sunday & Monday tu mmg keluar jer lah..

Tuesday 12 June - ptg dah bertolak ke KL. sampai rumah pak lang dh pukul 10 mlm jugak. Nasib baik kat rumah pak lang mmg x de org. So Z enjoy ler merayap serata rumah.

Wednesday 13 June - appointment dgn Dato' Dr Halim kat Ampang Puteri re Life Cell Therapy. Nantilah kalau ada masa mama cerita lah in detail..

Dato Halim book kan appointment dgn Audiology kat Gleneagles utk hari khamis. He gave us a medicine to be taken before appointment.

So hari khamis tu mama n papa kasik ler ubat tu sblm keluar. kami keluar pagi sbb papa nk uruskan hal MARA, while appointment with audiologist tu pukul 2. Rupanya ubat tu ubat tido! Bila sampai gleneagles Z dh bangun dah pun. So x dpt la buat hearing test n hv to go again the next day. Kesian Z.. 2 kali kena makan ubat tido. Dh la banyak, azab giler nk kasik dia makan ubat tu huhuhu..

'pengsan'

14 June jugak merupakan birthday papa. Tapi sebabkan busy teramat, x sempat pun nk proper celebration. Tgh haritu sempat makan kat Nandos (which is our favorite), then malamnya keluar dgn aunty nadia. So mama ajak ke secret recipe n beli slice of cake jer lah for papa :)




Friday morning ke gleneagles semula. The test turn out to be a success with favourable result. Alhamdulillah both ears are normal. Mama x perlu risau pasal hearing Z anymore :)



Ssshh! Ujian sedang dijalankan

Saturday 16 June - pagi2 buta dah bertolak balik ke dublin :(
A very short trip.. InsyaAllah kalau ada rezeki we will go home again end of this year :)