Dah 8 bulan 2 hari laaaa... ;)
Perkembangan setakat ini, masih kurang berkembang... still 7.2kg. Tapi ini budak makan banyak aje, mana pegi suma makanan tu pun ntah lerr..
Meniarap tergolek2 sgt laju, tapi masih pusing2 360 degree aje la.. bekerja keras utk merangkak. Asik bontot jer tertonggek2 hehehe
Tido masih bermasaalah.. Mesti nk mengamuk2 dulu.. Kena dukung pusing2 satu rumah, baru nak tido..
Lagi satu masalah tido, suka mimpi yg sedih2.. Terutama time maghrib. Sekarang nih maghrib pukul 8.30 gitu.. Mmg time tu dah lama dia tido dah.. Pastu nangis2.. kadang2 pilu jer bunyi tangisan dia.. Siap berair mata suma, tapi masih pejam.. Haih, seram sejuk mama jadiknyaa.. Memang keluar la suma ayat2 quran zikir2 dan doa..
Dah pandai 'hi 5' and buat 'twinkle-twinkle'.
Duduk with support still senget2 lg
Mainan kegemaran, piano.
Suka kentut kuat2.. Pastu sengih2..hahaha, kurang sopan laa nak oiii..
kalau nampak jer papa, mesti jerit2 panggil dukung (sbb mama jarang nk dukung, awak berat laa sayang)
Mama baru perasan, Z nih macam pasif skit bila keluar rumah. Mesti diam n behave jer.. Tambah2 kalau org asing agah2 dia. Mesti muka mcm x de respond jer.. Maybe sbb mama pun jarang bwk kuar kot.. Peghak ler jadiknya.. Hmm, bukan mama x mo slalu2 bwk jalan.. Kat luar tu sejuk la Z.. Mama takut nanti Z demam.. Now weather dah semakin cantik, mama akan selalu bwk Z kuar yer lepas ni..
Semalam Z dh start mamam nasik with chicken. Mama guna brown rice. Masa memula buat tu, mcm starchy. Pekattt..! And Z dont like it :(. Mmg brown rice mcm tu ke ar? Penat mama search for tips online, tak jumpa pun
Anyway, 2nd time mama try tambah air banyak2.. So dh kurang pekatnye.. Andddd Z loves it! Habis suma bubur. Harini pun sama lah, lunch n dinner, both licin..susu still jugak minum the same quantity.. fuh, kagum betol..
So far alhamdulillah, x de sbrg allergy reaction yet. Tapi kene tunggu sampai cukup 4-days waiting period dulu laa..kalau everything ok, nanti mama tambah sayur2 plak yer..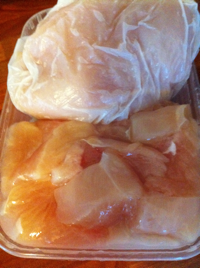 See, i love my bubur ayam
McD